You are in the market for a new pair of golf shoes, but nothing fits your taste. The Nike collection does not make you want too much. The Ecco S Three look really nice, but a bit pricey. Come to think of it, you get the impression that because it is about golf shoes are inflationary compared to street models. After a night of reflection (it is recommended), you remember that a pair of Vans that you have rarely worn because of this morose year (2020), is stored in the closet. This pair could do the trick. But with a flat sole without the slightest element of grip, early tee times or even showers halfway through the round, can ruin your dream.
The best solution would be to add cleats to these Vans. Yes but how ? GolfKicks is your solution for a unique pair of shoes. And in addition it is available in France and therefore Europe.
Transform your Vans by following these simple steps.
1. Get a pair of Vans (or others)
For you it's ok. But for others not that much. I mean they don't have a pair sleeping in the back of a closet. Once you have a model with a thick sole, the transformation stage can begin. Indeed, to fix the screw-cleats, it is better to have a thick rubber sole for 2 reasons. The first is to have enough material to screw the crampon and to hold it. The second, so that the crampon does not cross and you step on it! Vans shoes are really perfect for this operation.
2. Get a Golfkicks Kit
You will tell me that it is still a US product and not available here in Europe. Well, the Aix-en-Provence-based company Novoid distributes the kit through these stores and can send it to you for free in France.
The starting kit at 39 euros allows you to transform a pair. 2 additional crampons per shoe are provided just in case one of them wants to explore more of the golf course than you already have. A little aesthetic advice, pay attention to the color. It can influence the final look.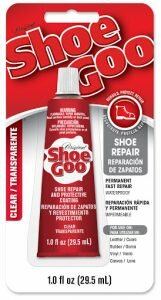 3. Fit the cleats on a pair
If you are afraid of missing the fit on your pair of Nike Air Jordan , you can follow the some tips that I obtained from Golf Kicks. The most important tip, and if you can find any, is to add "ShoeGoo" glue when mounting the crampon to ensure an even stronger binding.
Some examples of crampons mounted on sneakers
Now you have all the keys in hand to transform your pair into golf shoes. And this is not limited to Vans. Any other sneakers could do, as long as the sole is flat and made of rubber.

So which pair are you going to transform?
Unless you are lucky enough to have or have had golf shoes made by Vans!