I regularly see messages on social media from concerned golfers who will be transporting their golf clubs by plane in the coming days. It is common knowledge that luggage is often abused, not negligently, but it's just that there is so much. Not all can be handled with care. With a few trips by plane and advice gleaned here and there, I suggest you follow the following 10 steps to transport your golf bag safely …. in most airports.
First there are 2 separate parts; the golf bag and the carrying case.
But first of all, you have to strengthen the golf bag and protect it from anything it might encounter on its way.
1. Choose a loyalty program
Most airlines offer attractive rates for transporting sports equipment. By subscribing to a loyalty program, it is possible to transport your golf bag for free. For example at Air France- KLM, with the lowest level of their Flying Blue loyalty program, the golf bag travels for free. To avoid surprises at check-in, I invite you to print this voucher.
2.Empty your bag
The first step is to empty your bag of any electronic object or container with liquid. The rangefinder for example must be taken out of the bag, as well as any other containers filled with liquid. And it is not because it is not authorized, it is just to avoid that during transport the liquids do not make the trunk.
Rab's Travel Tips #47

If you are thinking about putting your sunscreen in your golf bag for the flight, consider all possible outcomes. pic.twitter.com/TkREJMTDah

— rab livingstone (@rablivingstone) May 13, 2019
3.The clubs in the center of the bag
To avoid leverage and make the bag more solid, gather your clubs in the middle of the bag. If you travel a lot I advise you to take a tripod bag with a minimum of dividers. If you have, like me, a bag with 14 dividers this will be complicated. Feasible but complicated.
In order to keep the whole united, you can add an elastic at the base of the grips and at the top, just below the club heads.
As most modern bags offer access via a side pocket, inside the bag, you can add bubble wrap to prevent possible shocks.
I almost forgot to tell you to wrap the heads of the irons and wedges so that they do not collide.
4.Add a backbone to it.
And as you can never be too careful, I invite you to buy this accessory the Backbone from BagBoy, whose head in the shape of a mushroom cap. It will avoid possible compressions that can occur during the routing of the bag on the continuous handling belts.
A must add-on that will add rigidity to your bag … If you are not convinced, you surely think that your driver can play this role !?
During my last trip to Germany , I was delighted to have installed this accessory when I saw my bag popping out of the carpet fallen head first on the edge of the treadmill.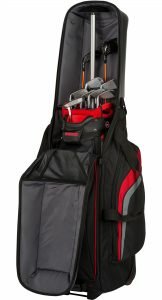 5.Fill the empty spaces
Despite the addition of all these safeguards, there are still some weak points to be filled.
The bottom of the bag. Tie the clubs together, wrap them with bubble wrap and make sure nothing is moving.
The top of the golf bag. Once you have completed steps 3 and 4, and you have covered everything with the rain cover, there is still a lot of empty space, which I invite you to fill with bubble wrap until that once the rain cover is closed you feel like it has been inflated.
6. Put your bag in a soft travel cover
On social networks, I have seen many people advocating the "hard" cover. I have 2 problems with that. First, a hard cover will be heavier than a flexible cover, increasing the weight of the whole (especially if you play with steel shafts). Secondly, the exposed handles and hinges may give away when handling the bag.
7. Wrap your bubble wrap bag
Once your bag is in its carrying case, wrap it with bubble wrap. Why? In order to avoid any kind of liquids which could flow on it. It is better to have your cover stained with oil than your bag, right?
8. Add a GPS tracker to the bottom of the bag
For those who are really afraid of losing their bag, a gps tracker can be added to the bottom of it. Even if that won't allow you to track the bag for thousands of kilometers, at least you will know if it is flying with you!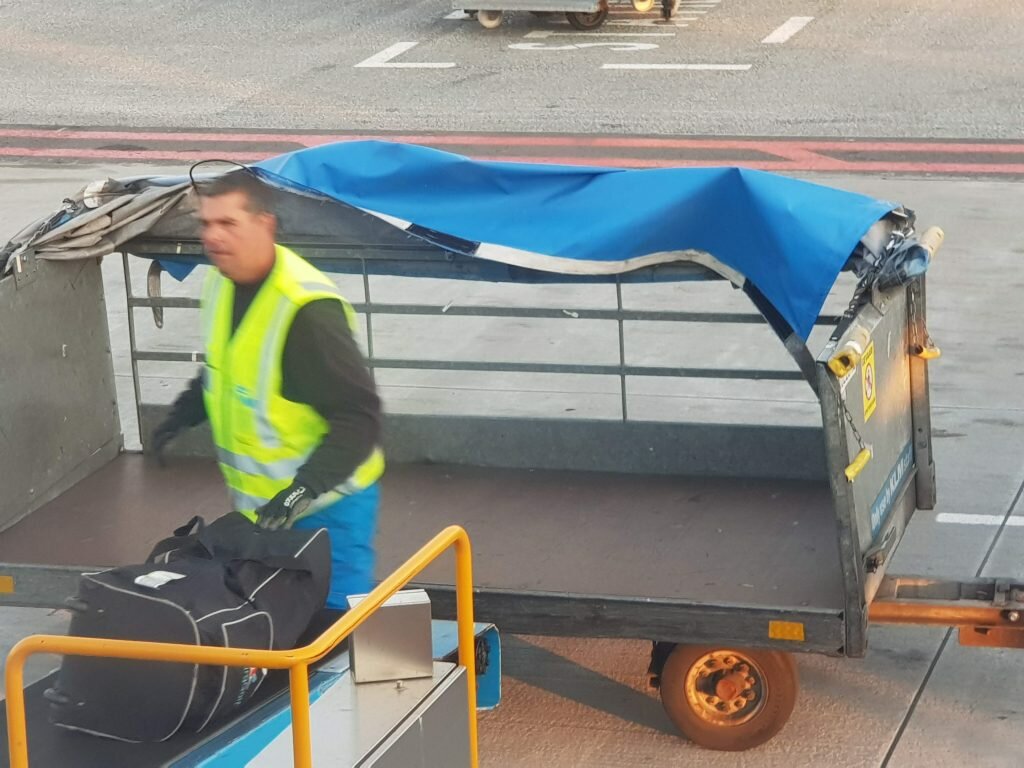 …Wait for your bag
Last step is to wait for your bag at destination. Most medium-sized airports are equipped with an odd size luggage system with a dedicated team. They are used to handle this kind of luggage, and will take care of your precious things.
With these 8 tips, I have never encountered any problems when transporting my golf bag by plane. And you? What is your story? Share it in the comments.