The Gaudet Luce Golf Club in Worcestershire (England) has succeeded in the incredible challenge of doubling its number of members over the last 2 years (2014-2015). Impossible ? Follow this incredible story which further demonstrates that it is possible to acquire new golfers by upsetting the classic and restrictive rules of membership.
The program was so successful that the owner won an England Golf Award. The name of the ideal scheme? The Utopian Scheme!
A new flexible membership
In order to win new members, the idea was to offer a flexible membership made up of golf points. Usually, the golfer pays a reduced annual fee to be a member of the golf course. Then, the player can play green fees at reduced prices or even free, if he is limited to a certain number of courses in the year.
This offer is very attractive for golfers who do not play every weekend, and still want to play at reduced prices.
Many golf courses and golf networks in France offer monthly subscriptions. As Blue Green offers several offers subject to a monthly subscription allowing you to play on one or more golf courses.
An interesting initiative, but one that does not suit many golfers, especially those who cannot necessarily afford it or worst have a limited time per year to play. Indeed, it is difficult to see your bank account debited during a winter month when you have not unleashed your clubs for the entire month. So even if a monthly payment allows more golfers to play, having a flexible membership would make it possible to acquire new players, those who only play a dozen courses per year. And if we add to all this, yield management techniques to optimize the crowds on the hollow time slots, we maximize attendance while attracting another type of golfers.
For example: if the green fee at your club costs 50 euros for 18 holes, and the subscription at 1500 euros, you will have to play 30 times just to be even! So if you play between 10 and 15 times you will not take membership and you will not contribute to the promotion of the club as a member.
At Gaudet Luce no monthly subscription but more a package of points according to your profile.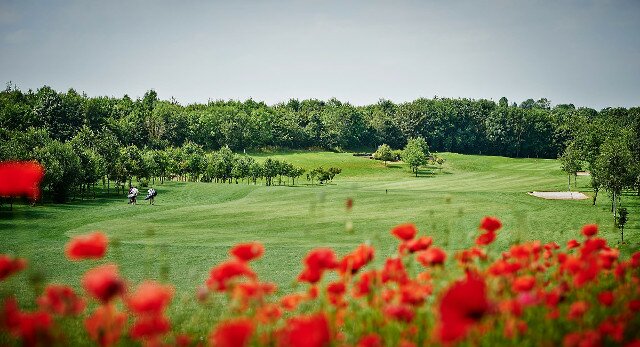 What is the Gaudet Luce Golf Club utopian scheme?
The membership scheme includes different criteria: age, gender, level of play, and frequency of play. Going a little further in the selection, we discover an explanation of the membership system.
There are a total of 4 packages, each corresponding to a cost. These packages have no time or season limits. Depending on the package you take you have a cost per point.
Then depending on the time you play a number of points is removed from your quota. You follow me ?
For example if you take package 4 (£ 410) with no expiration date, you have 227 points. By playing only on weekends in the morning, an 18 hole course will cost you 13 points. But if you want to play the week after 6am, it will cost you 5 points.*
Interesting isn't it?
The advantages of this system
Because I don't see any disadvantages here, this system uses yield management (increase traffic over the "low" periods for example) to attract another population of golfers, such as women or young people.
More flexibility
In addition, players who are used to frequenting the same club and who do not play more than 20 times a year, really get their money's worth. If a year he plays less, he will always have his points which he can spend the following year. With so much flexibility, your golfer only pays when he plays! Satisfaction that surpasses the annual subscription renewal, or the monthly withdrawal during the winter months.
On demand
This solution responds to a mutation in golf. In our modern society, everything is on demand. We consume when we want. We no longer have time to spend the whole day at the golf course. We want it to go fast and be simple. Results, the club went from 400 members to 800 members in 2 years.
Utopian membership has solved 2 issues here. The first issue of the club tackled down is the hard time filling its facility outside the daily weekend hours by offering an attractive price (and also to find new members). And the second being that golf players want to be part of the club without paying a membership which is not in line with their frequency of play or the way they play.
Congratulations to Alec Fernihough and his club who succeeded in changing their mode of operation to find a new segment of golfers.
Besides, are you in this situation? Could your club put such a system in place? Leave your answer in the comments.
*numbers are accurate at the time of writing.